01.09.2015 | Research Article | Ausgabe 3/2015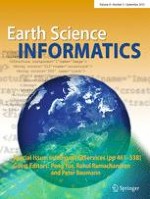 Task-oriented Sensor Web data processing for environmental monitoring
Zeitschrift:
Autoren:

Lei Hu, Peng Yue, Mingda Zhang, Jianya Gong, Liangcun Jiang, Xining Zhang
Wichtige Hinweise
Communicated by: Rahul Ramachandran
Published in the Special Issue of
Intelligent GIServices
with Guest Editors Dr. Peng Yue, Dr. Rahul Ramachandran and Dr. Peter Baumann
Abstract
With the rapid development of geospatial service and sensor technologies, large volumes of geospatial data have been collected using various sensor networks, and accessible on the Web. Traditional geospatial data processing could be task-oriented, since a geoprocessing task can be described by a set of action steps, implemented as a workflow, and executed using distributed geoprocessing services. Tasks facilitate the expression of user requirements and capture the problem solving knowledge of users. In this paper, the task-oriented approach is extended to the OGC Sensor Web environment. It highlights how the event-driven technologies adopted by the Sensor Web can be leveraged with geoprocessing workflows to support environment monitoring tasks. The proposal of a Task Model Language (TaskML) and task trigger mechanism allows environmental events to be plugged into an existing model builder, GeoJModelBuilder. Tasks can be created in a stepwise manner, and their execution priority can be updated automatically using triggers. Compared to the traditional "reactive" task enactment mode, the trigger-augmented task can support "active" environmental monitoring. Use cases on PM2.5/PM10 monitoring demonstrate the applicability of the approach.