01.09.2012 | Original Paper | Ausgabe 3/2012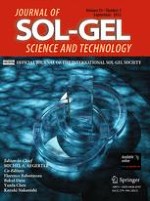 Technology of preparing anode films and the effect of co-sensitization in dye-sensitized solar cells
Zeitschrift:
Autoren:

Jingchang Zhang, Zhenhai Fu, qian lv, Xiuying Yang, Weiliang Cao
Abstract
Nanocrystalline N–Zn/TiO
2
anode films were prepared by doping element N and Zn. These element-doped films have a better performance in dye-sensitized solar cell than the non-doped film. The test shows that the best thickness of N–Zn/TiO
2
anode film is 13.5 μm. UV–Visible measurements show that there is a complementarity in ultraviolet–visible absorbance range between P3OT and N719, both are used as dyes in this study, the former is prepared and the latter is commercially available. SEM shows a significant mass increase of anode film after treated with TiCl
4
. Solar cells based on N–Zn/TiO
2
anode film with TiCl
4
treatment was firstly co-sensitized by N719/P3OT. A solar
-
to
-
electric energy conversion efficiency of 3.54 % was obtained. Compared with the traditional dye
-
sensitized solar cell, the photoelectric conversion efficiency,
V
oc
and
J
sc
have been increased.