2006 | OriginalPaper | Buchkapitel
The Development of a Continuum Damage Model for Fibre Metal Laminate Structures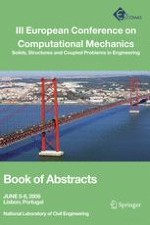 Erstes Kapitel lesen
Autoren: Ronan M. Frizzell, Conor T. McCarthy, Daire Cronin, Michael A. McCarthy, Ronan M. O'Higgins
Verlag: Springer Netherlands
Fibre Metal Laminates (FMLs) are a family of materials consisting of alternating layers of thin metal sheets and fibre-reinforced plastic. Glass composite based FMLs, commercially available under the name GLARE, have recently found application in the aircraft industry due to their excellent fatigue performance and impact properties. This work aims to develop a computational damage model for GLARE for use in finite element simulations. Unique challenges arise in modelling this material since it possesses both the elastic-plastic characteristics common to metals and the more brittle behaviour of glass based composite. Of particular interest to this project is the behaviour of GLARE in jointed configurations. The project proposes to develop a methodology for modelling damage initiation and growth in jointed GLARE structures and to validate the results against experimental data.
An experimental investigation has been conducted on simple yet representative jointed GLARE structures. A pin-bearing test setup, without lateral constraints, has been used in order to model the central lap of a double-lap joint. Information has been gathered on the progression of damage and the failure mechanisms present in these joints. Specimens that promote bearing, net-tension and shear-out failure modes were examined. Damage in failed specimens and specimens tested to percentages of failure have been studied using microscopy. Results demonstrate that delamination between plies, matrix cracking and fibre failure are the dominant failure modes.
In order to capture these complex failure modes, three-dimensional models of the pin-loaded GLARE specimens were developed in the non-linear finite element code ABAQUS. An in-house developed delamination model was used to predict the initiation and growth of delamination between the plies. This model uses three-dimensional failure criteria to predict delamination onset and a user-defined decohesion contact interface to model delamination growth. The model successfully predicted the initiation and growth of delamination in the joint configurations tested. A global-local sub-modelling approach was used to increase computational efficiency, and this is described.
Current work is aimed at developing a continuum damage mechanics model to better capture the complex damage mechanisms that have been seen to occur in the composite plies. As a starting point, the Ladeveze [
1
] damage model has been implemented using a user-defined material subroutine UMAT, available in ABAQUS. This model is being extended to the three-dimensional case and its development and application will be described.