2017 | OriginalPaper | Buchkapitel
10. The Hamsters of Yushe Basin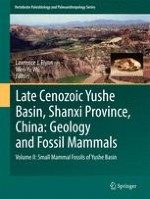 Erstes Kapitel lesen
Autoren: Wen-Yu Wu, Lawrence J. Flynn
Verlag: Springer Netherlands
Abstract
Fossil hamsters are a minor but constant microfauna component in the succession of Yushe Basin deposits. They indicate considerable hamster diversity for North China during the late Neogene, with at least six genera and eight species recorded from late Miocene to early Pleistocene assemblages.
Neocricetodon
is a long-ranging late Neogene hamster, with closely related species widespread throughout Europe and Asia. Yushe Basin famously produced the type material of
Neocricetodon grangeri
, which we show to come from the late Miocene Mahui Formation south of the town of Yushe.
Neocricetodon grangeri
ranges from late Miocene (6.3 Ma) to early Pliocene (4.7 Ma) deposits. Later long-ranging Pliocene hamster lineages are
Allocricetus
and
Cricetinus
, for each of which we define a new species. Joining the latter two genera during the Late Pliocene, the living
Cricetulus
brings to three the number of coeval hamster genera. Finally, by the early Pleistocene, the modern genus
Phodopus
appears and coexists with
Cricetulus
in Yushe Basin.