13.11.2017 | CHALLENGES AND BEST PRACTICE IN LCAS OF SEAFOOD AND OTHER AQUATIC PRODUCTS | Ausgabe 5/2018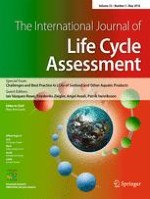 The importance of using life cycle assessment in policy support to determine the sustainability of fishing fleets: a case study for the small-scale
xeito

fishery in Galicia, Spain
Zeitschrift:
Autoren:

Pedro Villanueva-Rey, Ian Vázquez-Rowe, Andrea Arias, Maria Teresa Moreira, Gumersindo Feijoo
Wichtige Hinweise
Responsible editor: Friederike Ziegler
Electronic supplementary material
Abstract
Purpose
Drift net fishing activities have undergone a thorough revision at a European Union level, since authorities argue that several loopholes still exist in the legislation that allow small-scale fisheries to use these gears. High incidental catches, or the lack of selectivity, are some of the primary scientific criteria behind this discussion. This new framework is of particular interest in the region of Galicia (NW Spain) due to the social importance of small-scale fishing vessels using drift nets. In fact, over 400 vessels have a licence to capture European pilchard (
Sardina pilchardus
) with a fishing gear called
xeito
, which is a small-scale drift net.
Methods
The main goal of this article is to provide stakeholders in the fishing sector with environmentally relevant results regarding the life cycle impacts linked to fishing practices performed by small-scale vessels using the
xeito
gear to target European pilchard. We hypothesize that environmental impacts computed with LCA will provide additional insights to the sustainability of the pilchard small-scale fishery in NW Spain, adding a series of criteria that may be useful for policy-makers to determine the consequences of forbidding this type of drift netting in the future.
Results and discussion
Results show that environmental impacts across impact categories and operational activities do not differ much from that of other similar fishing fleets examined in recent years, with fuel for propulsion being the main environmental burden in most impact categories. When conducting a statistical analysis, no significant difference in energy use was identified between this small-scale fleet and purse seiners targeting pilchard in Galicia. Moreover, the results obtained demonstrate, in line with previous studies, that European pilchard is still an energy-efficient source of animal protein option as compared to demersal fish alternatives, crustaceans, or livestock.
Conclusions
The results do not indicate that European pilchard landed with small-scale drift nets generates higher environmental life cycle impacts than pilchard landed by purse seiners in NW Spain. However, longer time frames for the analysis should be performed to attain results with lower uncertainty.