2017 | OriginalPaper | Buchkapitel
10. The Performances of Mainstream Politicians: Politics as Usual?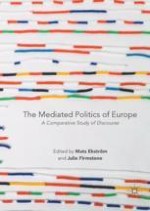 Erstes Kapitel lesen
Autoren: Stephen Coleman, Julie Firmstone
Abstract
In the chapter Coleman and Firmstone's multimodal discourse analysis captures both the visual characteristics and the spoken discourse of the performances of mainstream politicians in television news in five countries (France, Italy, Greece, Sweden and the UK). Examples are used to illustrate the performative frames and discursive strategies that mainstream politicians employ in order to establish themselves as serious and authoritative personae, while at the same time attempting to realize qualities of authenticity and public representativeness. In order to appear popular rather than populist, mainstream politicians are driven to produce hybrid performances that enable them to realise a delicate balance between authority and authenticity. The chapter suggests that political performances are played out within a spectrum, with an ideal type of perfectly self-controlled mainstream imagery at one end and populist appeals to be 'one of the people' and to understand 'ordinary people' at the other. The analysis also explores the discursive strategies of journalists in constructing mainstream politicians and questions journalists' roles in the construction (and deconstruction) of politicians as mainstream in the genre of interactive news making.