08.10.2018 | Research Paper | Ausgabe 7/2019 Open Access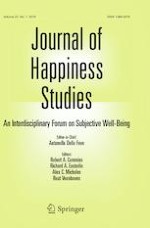 The Political Attitudes and Subjective Wellbeing of the One Percent
Zeitschrift:
Autoren:

Nikhil K. Sengupta, Chris G. Sibley
Abstract
In capitalist societies, individuals who occupy the highest positions in the economic hierarchy feature prominently in the political discourse under the moniker of the One Percent. However, little is known about how the psychology of One Percent might differ from that of the average person. Using a large, nationally representative sample in New Zealand (
N
 = 14,650), we aimed to fill this gap examining the political attitudes and subjective wellbeing of the top one percent of the income distribution. We found that, compared to general public, the One Percent in New Zealand more strongly legitimize the political and economic systems in society, and express lower support for redistributive taxation. They also report higher life satisfaction, self-esteem and belongingness compared to everyone else. Thus, the One Percent benefit not only economically and politically from the current system, but also psychologically. Moreover, their political beliefs serve to bolster the inequality from which they benefit.