2019 | OriginalPaper | Buchkapitel
19. The Regional Approach: Alluvial Fans along the Dead Sea-Arava Rift Valley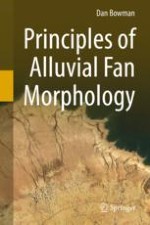 Erstes Kapitel lesen
Autor: Dan Bowman
Verlag: Springer Netherlands
Abstract
This review focuses on the rift valley between the Dead Sea and the Gulf of Elat, Israel, along part of the
Dead Sea Transform
that stretches north to south from Syria through the Red Sea to Africa. The transform has been intermittently active since at least the Miocene and remained the center of seismic activity, experiencing destructive earthquakes to the present day. The main issues of fan research at the Dead Sea area are fan morphology and the effect of a lowering base-level. Southward, along the Arava Rift Valley, alluvial fans have been studied mainly as surfaces that preserve tectonic fingerprints and allow dating normal and sinistral tectonic slips.
Various kinds of fans are exposed in the Dead Sea area: sublacustrine fans, Gilbert-type fans, fan deltas, and alluvial fans, often of the telescopic type. The drop of Lake Lisan and the Dead Sea provided the altitudinal range needed for intensive entrenchment and formed alluvial fans that are unique by their deep incision, high number of fan terraces, and raised shorelines. There are, however, major reasons to deny an active lowering-base-level control in the fan environment along the Dead Sea. The rapid lake level drop only allowed entrenchment but did not cause it. Fan entrenchment and progradation have been activated from upstream, i.e., a "top-down" driven entrenchment while lagging behind the rapid lake level drop.
Southward, along the Arava Rift margins, fans are transected and displaced by normal and strike-slip faults of the Dead Sea Transform system. Alluvial fans show sharp linear boundaries, and some are offset horizontally relative to their feeding catchment. The calculated horizontal slip rates are consistent with the present-day GPS slip.