2018 | OriginalPaper | Buchkapitel
The Role of State, Domestic Firms, and MNCs in the Iranian Auto Industry: Improved Competitiveness or Policy Capture?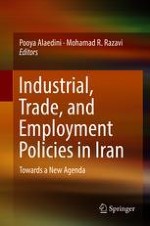 Erstes Kapitel lesen
Autoren: Mohamad R. Razavi, Pooya Alaedini
Abstract
This chapter treats the development of Iran's auto industry. Through cooperation with European and Asian multinational corporations (MNCs) and a vigorous localization drive, the Iranian auto industry has in the past two decades increased its production severalfold. Whereas reliance on imported complete knockdowns (CKDs) has remained extensive in the upper segments of the market, the main achievement has been the formation of a domestic parts-suppliers network and high levels of localization in the lower segments. Yet, the industry's growth has been associated with the domestic market rather than exports—a situation exacerbated by international sanctions imposed on the Iranian economy. The chapter suggests that the recent domestic economic reforms together with opportunities offered by sanctions relief are likely to place the industry on a new trajectory. Since the removal of part of the international sanctions placed on the Iranian economy, the two large Iranian auto assemblers have concluded a number of joint venture agreements—in particular toward producing new models with the help of Peugeot-Citroen and Renault—which emphasize, at least on paper, exports and transfer of technology. Cooperation of small private-sector assemblers with VW, Renault, Hyundai, and various Chinese firms are additional developments in the Iranian auto industry during the recent period. The chapter examines the prospects for the Iranian auto industry against the background of these developments together with state policies.