01.06.2015 | Original Paper | Ausgabe 3/2015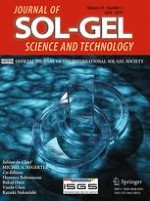 The synthesis of ultrasmall ZnO@PEG nanoparticles and its fluorescence properties
Zeitschrift:
Autoren:

Wenyi Huang, Dawei Bai, Lijun Li, Huidan Wei, Zhipeng Shi, Hao Cheng, Yanqing Li
Wichtige Hinweise
Electronic supplementary material
The online version of this article (doi:
10.​1007/​s10971-015-3653-0
) contains supplementary material, which is available to authorized users.
Abstract
We reported here an improved method in ethanol producing controllable ultrasmall ZnO@PEG nanoparticles in large-scale. The growth process for bare ZnO and ultrasmall ZnO@PEG nanoparticles were monitored by the UV–Visible spectrum and the result of particles size distributions was coincident with other measurement techniques [dynamic light scattering and transmission electron microscopy (TEM)]. Comparing with the result of FT-IR, TGA characterization, PEG could be adsorbed at the surface of ZnO nanoparticles. The fourier transform analysis from the TEM images indicated that PEG coated at the surface of ZnO nanoparticles did not have a direct effect on the morphology of the nanoparticles grown within. As the same growth time and excitation wavelength, the ZnO@PEG nanoparticles were endowed with higher FL intensity than bare ZnO nanoparticles from the fluorescence characterization. The FL intensity could retain 91.0 % of its beginning intensity for 6 days in ethanol, which declared the ZnO@PEG had acceptable storage stability. When the ZnO@PEG nanoparticles were transferred to aqueous solution, a balance value was found for the FL intensity in 120 min. Interestingly, the colloidal solution can keep transparent for 6 months without aggregation at room temperature. The controllable ultrasmall ZnO nanoparticles may link molecular-scale materials forming larger dimensions nanomaterials with different physical and chemical properties. And more, this fast and simple method for preparing ultrasmall ZnO nanoparticles ethanol solution can be improved for further study about doped ZnO for functional coating and solvent.
Graphical Abstract
×