2015 | OriginalPaper | Buchkapitel
Thread-Parallel Anisotropic Mesh Adaptation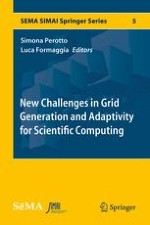 Erstes Kapitel lesen
Autoren: Gerard J. Gorman, Georgios Rokos, James Southern, Paul H. J. Kelly
Abstract
Mesh adaptation is a powerful way to minimise the computational cost of mesh based computation. It is particularly successful for multi-scale problems where the required mesh resolution can vary by orders of magnitude across the domain. The end result is local control over solution accuracy and reduced time to solution.
In the case of large scale simulations, where the time to solution is unacceptable or the memory requirements exceeds available RAM, mesh based computation is typically parallelised using domain decomposition methods using the Message Passing Interface (MPI). This allows a simulation to run in parallel on a distributed memory computer. While this has been a high successful strategy up until now, the drive towards low power multi- and many-core architectures means that an even higher degree of parallelism is required and the memory hierarchy exploited to maximise memory bandwidth.
For this reason application codes are increasingly adopting a hybrid parallel approach whereby decomposition methods, implemented using the Message Passing Interface (MPI), are applied for inter-node parallelisation, while a threaded programming model is used for intra-node parallelisation. Mesh adaptivity has been successfully parallelised using MPI by a number of groups, and can be implemented efficiently with few modifications to the serial code. However, thread-level parallelism is significantly more challenging because each thread modifies the mesh data and therefore must be carefully marshalled to avoid data races while still ensuring enough parallelism is exposed to achieve good parallel efficiency.
Here we describe a new thread-parallel algorithm for anisotropic mesh adaptation algorithms. For each mesh optimisation phase (refinement, coarsening, swapping and smoothing) we describe how independent sets of tasks are defined. We show how a deferred updates strategy can be used to update the mesh data structures in parallel and without data contention. We show that despite the complex nature of mesh adaptation and inherent load imbalances in the mesh adaptivity, good parallel efficiency can be achieved.