13.06.2019 | Original Article | Ausgabe 5-6/2019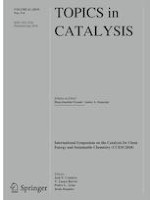 (Trans)acetalization Reactions for the Synthesis of Oligomeric Oxymethylene Dialkyl Ethers Catalyzed by Zeolite BEA25
Zeitschrift:
Autoren:

Philipp Haltenort, Ludger Lautenschütz, Ulrich Arnold, Jörg Sauer
Wichtige Hinweise
Publisher's Note
Springer Nature remains neutral with regard to jurisdictional claims in published maps and institutional affiliations.
Abstract
Oligomeric oxymethylene dimethyl ethers (DMEs; OMDMEn) are acetals of the type CH3O(CH2O)nCH3 with a high oxygen content and without carbon–carbon bonds in the molecular structure. Therefore, formation of soot and NOx emissions is largely suppressed during combustion. Oligomers with n = 3–5 exhibit properties similar to conventional diesel fuel and this stimulated extensive research in this field. Reactions of OMDME1, the corresponding ethyl derivative OMDEE1 and dimethyl ether (DME) with trioxane have been carried out employing zeolite BEA25 as acidic catalyst. Thus, oligomer mixtures with n = 1–5 are obtained and very small amounts of higher oligomers are also formed. OMDMEn- or OMDEEn-forming reactions from the starting materials take place as well as subsequent transacetalization reactions which lead usually to a product distribution according to a Schulz–Flory distribution. Several transacetalization reactions have been studied, e.g. reactions of OMDME1 with OMDME3 and OMDEE1 with OMDEE3, which lead to the typical mixtures with n = 1–5. Reactions of OMDME1 with OMDEE1 yielded ethoxymethoxymethane, i.e. the acetal with mixed end groups. This allows for the tuning of oligomer mixtures and adjustment of properties according to the required demands of the respective application. Regarding DME as starting compound, the transacetalization reaction with OMDME3 yielded only small amounts of OMDME1–5 while the reaction of DME with trioxane yielded considerable amounts of the oligomers. The reaction is comparatively slow enabling a kinetic control of the oligomer distribution which exhibits an elevated selectivity for the desired OMDME3–5 fraction in the beginning of the reaction.