2012 | OriginalPaper | Buchkapitel
11. Transfer of Radionuclides to Crops, Foodstuff Contamination and Application of Countermeasures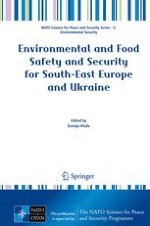 Erstes Kapitel lesen
Autor: Gerassimos Arapis
Verlag: Springer Netherlands
Abstract
The behavior of radionuclides into the soils and their uptake by plants is a competitive physiological process. For radiocaesium and radiostrontium, the main competing elements are potassium and calcium, respectively. Migration velocity into the soil is lower for radiocaesium, compared to radiostrontium, and also it depends on soil type. The migration velocity of radionuclides into the soil is ­discussed, based on experimental works in northern Greece (a region seriously affected by the Chernobyl accident). Concerning 137Cs, the vertical velocity was found to range from 0.1 to 0.3 cm/year. The major processes influencing ­radionuclide-transport processes within the rooting zone varies mainly with the soil type.
Radionuclides transfer from soil to plants is commonly quantified using the Transfer Factor (TF). The highest radiocaesium uptake by roots from soil to plants occurs in peaty, boggy soils, and is one to two orders of magnitude higher than in sandy soils; this uptake often exceeds that of crops grown on fertile agricultural soils by more than three orders of magnitude. The high radiocaesium uptake from peaty soil became important because such soils are used for the production of animal feeding crops. In long term, the amount of radiocaesium in agricultural products depends not only on soil type, but also on the density of contamination, soil moisture regime and texture, agrochemical properties and, finally, the species of plants.
Currently, due to natural processes and the applied agricultural countermeasures, the radiocaesium-activity concentrations in agricultural foodstuff produced in areas affected by the Chernobyl accident, are generally below local (national), regional (EU) and international action levels. However, in some limited areas, with high radionuclide contamination (i.e., the region of Gomel in Belarus), or with poor organic soils, the radiocaesium-activity concentrations in food products, especially milk, may exceed the higher permissible levels. Therefore, the application of ­additional specific measures might be still necessary.
The countermeasures used in crop production, in order to minimize the contamination of foodstuff, can be classified in two main groups: organizational and ­agrotechnical. The organizational countermeasures are mainly based on the ­principle of change of the use of land in order to: (a) increase the area of crops characterized by low accumulation of radionuclide, (b) abandon any land of very high contamination, and (c) substitute the existing crop by others, less critical (i.e., hay, grain, potatoes). The agrotechnical countermeasures include: (a) change of crops, (b) mechanical soil treatment, and (c) application of agrochemical measures. A short description of the above countermeasures and a comparison of their efficacy are presented in this paper.