2019 | OriginalPaper | Buchkapitel
2. What Do We Know About Firms in the Informal Manufacturing Sector in India?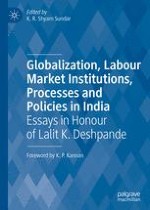 Erstes Kapitel lesen
Autoren: Rajesh Raj S. N., Kunal Sen
Verlag: Springer Singapore
Abstract
Despite the presence of a large chunk of manufacturing firms in the informal sector in India, we know very little about their characteristics and evolution over time in a period when the Indian economy has been increasingly globalized. What constrains firm growth, productivity and wages in the informal manufacturing sector in India? How different are the characteristics of firms in the Indian informal manufacturing sector across the different types of firms that populate this sector, across household and non-household enterprises? How have firm characteristics including firm size and firm productivity changed in the 2000s, a period of rapid globalization in India? In this chapter, we attempt to address this gap in the literature by conducting a detailed investigation of informal manufacturing firms in India, using rich unit record data on these firms from the NSSO for the years 2000–01, 2005–06, 2010–11 and 2015–16. To be specific, we first look at the evolution of firm size across the three different categories of firms in the Indian informal manufacturing sector—own account manufacturing enterprises (OAMEs), non-directory manufacturing enterprises (NDMEs) and directory manufacturing enterprises (DMEs), first in the aggregate and then by state and industry. We then look at firm size and productivity by different sets of firms' characteristics (location of the firm, age and gender and social group of the owner) to see if there are observable differences in firm size and productivity across firms of different characteristics. We note the presence of the 'missing middle' problem in Indian manufacturing. One important concern about firms in the informal sector is that they pay less wages to their workers than firms in the formal sector. We capture this by examining the differences in wages paid to workers by specific characteristics of firms—by firm type, ownership, social group of owner and firm size. Our findings suggest the need to enhance firm productivity in the Indian informal sector, as a means to improve the living standards of the workers employed in the informal sector. We also notice that there exist significant social and economic barriers to informal firms in increasing their productivity, which is a matter of major policy concern.