1992 | OriginalPaper | Buchkapitel
Why are Hydrothermal Systems Proposed as Plausible Environments for the Origin of Life?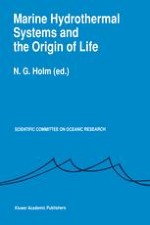 Autor: Nils G. Holm
Verlag: Springer Netherlands
Enthalten in: Professional Book Archive
The paradigm change in geology by the general acceptance of plate tectonics around two decades aga has brought about an increased interest in geothermal processes at plate boundaries. Thus the enhanced research activity at spreading centers led to the discovery of large spectacular submarine hydrothermal systems of global significance to ocean chemistry and geochemistry. Among the best known such areas are the Galapagos Ridge (Corliss et al., 1979), the East Pacific Rise at 21°N (Francheteau et al., 1979; Spiess et al., 1980), and the Juan de Fuca Ridge (Chase et al., 1985). Rona and coworkers (1983) have compiled the early landmark studies of hydrothermal processes at seafloor spreading centers. Recently Edmond (1991) also reviewed U.S. research on oceanic hydrothermal chemistry for the period 1987-1990. The spectacular nature of marine hydrothermal systems with features such as 'black smokers', 'white smokers' and peculiar ecosystems that are independent of sunlight as a source of reducing power has focused much interest on hydrothermal processes for the explanation of an array of geochemical processes and phenomena. Hydrothermal systems located at global plate spreading centers soon attracted the attention of geochemists as viable environments for chemical evolution and the origin of life (cf. Ingmanson and Dowler, 1981).