2015 | OriginalPaper | Buchkapitel
2. Wireless Power Transfer (WPT) for Electric Vehicles (EVs)—Present and Future Trends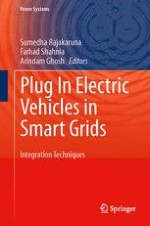 Erstes Kapitel lesen
Autoren: D. M. Vilathgamuwa, J. P. K. Sampath
Verlag: Springer Singapore
Abstract
100 year old gasoline engine technology vehicles have now become one of the major contributors of greenhouse gases. Plug-in Electric Vehicles (PEVs) have been proposed to achieve environmental friendly transportation. Even though the PEV usage is currently increasing, a technology breakthrough would be required to overcome battery related drawbacks. Although battery technology is evolving, drawbacks inherited with batteries such as; cost, size, weight, slower charging characteristic and low energy density would still be dominating constrains for development of EVs. Furthermore, PEVs have not been accepted as preferred choice by many consumers due to charging related issues. To address battery related limitations, the concept of dynamic Wireless Power Transfer (WPT) enabled EVs have been proposed in which EV is being charged while it is in motion. WPT enabled infrastructure has to be employed to achieve dynamic EV charging concept. The weight of the battery pack can be reduced as the required energy storage is lower if the vehicle can be powered wirelessly while driving. Stationary WPT charging where EV is charged wirelessly when it is stopped, is simpler than dynamic WPT in terms of design complexity. However, stationary WPT does not increase vehicle range compared to wired-PEVs. State-of-art WPT technology for future transportation is discussed in this chapter. Analysis of the WPT system and its performance indices are introduced. Modelling the WPT system using different methods such as equivalent circuit theory, two port network theory and coupled mode theory is described illustrating their own merits in Sect.
2.3
. Both stationary and dynamic WPT for EV applications are illustrated in Sect.
2.4
. Design challenges and optimization directions are analysed in Sect.
2.5
. Adaptive tuning techniques such as adaptive impedance matching and frequency tuning are also discussed. A case study for optimizing resonator design is presented in Sect.
2.6
. Achievements by the research community is introduced highlighting directions for future research.