16.11.2017 | Ausgabe 2/2018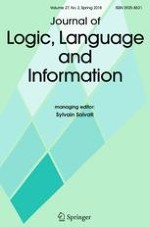 Yoad Winter's
Elements of Formal Semantics

, 2016, Edinburgh Advanced Textbooks in Linguistics (Edinburgh University Press)
Paperback, pp. 258. ISBN 978 0 7486 4043 0
Zeitschrift:
Autor:

Edward L. Keenan
Wichtige Hinweise
Full disclosure: I myself have written extensively on generalized quantifiers and with Larry Moss (
2016
) published a formal semantics text (less introductory than Winter's).
Abstract
Elements of Formal Semantics
(EFS) has already been reviewed twice (Rett in Glossa 1(1):42,
2016
; Erlewine in Comput Linguist 42(4):837–839,
2017
). As well, the website for the work is accompanied by evaluative quotes by noted scholars. All are very positive concerning its clarity and its utility as an introduction to formal semantics for natural language. As I agree with these evaluations my interest in reiterating them in slightly different words is limited. So my reviews of the content chapters will be accompanied by a Reflections section consisting of my own reflections on the foundations of model theoretic semantics for natural language as laid out in EFS. The issues I address—alternate ways of accomplishing the tasks Winter treats—should not be included in an introductory work but they may be helpful for those who teach classes for which EFS is an appropriate text. They might also help with queries about the content of the text by those using it. I note that a mark of a clear text is that it allows the reader to reflect on its content not its presentation.