11.06.2018 | Methodologies and Application | Ausgabe 15/2019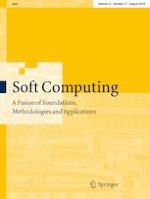 A random perturbation modified differential evolution algorithm for unconstrained optimization problems
Zeitschrift:
Autoren:

Zhaokun Wei, Xinlian Xie, Tiantian Bao, Yue Yu
Wichtige Hinweise
Publisher's Note
Springer Nature remains neutral with regard to jurisdictional claims in published maps and institutional affiliations.
Abstract
To solve unconstrained optimization problems, a random search differential evolution algorithm (RPMDE) is designed based on a modified differential evolution algorithm. The efficiency of an evolutionary algorithm usually depends on its exploration competence and development capability. Considering these characteristics, an effective difference operator called 'DE/M_pBest-best/1' is designed, which originates from 'DE/best/1/' and 'DE/current-pbest/1'. The operator makes use of information from the best population of individuals to generate new solutions for the development of RPMDE and guarantee swarm quality during the later evolution of the algorithm, which improves its searching ability. To prevent the solutions from falling into local optima, RPMDE also adopts random perturbation to update the current solution with a better solution after difference mutation and crossover are competed. Furthermore, a levy distribution is employed to adjust the scale factor as a control parameter. All designed operators are beneficial to improve the exploration competence and the diversity of the whole population. Last, a large number of computational experiments and comparisons are conducted by employing 15 benchmark functions. The experimental results indicate that the designed algorithm, RPMDE, is more effective than other differential evolution variants in dealing with unconstrained optimization problems.