24.10.2020 | ELECTROMAGNETIC MEASUREMENTS | Ausgabe 6/2020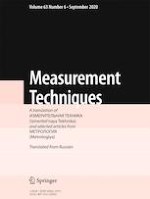 Analysis of the Dependence of the Magnetic Properties of Granular Ferromagnetic Samples on the Ratio of their Length to Diameter
Zeitschrift:
Autoren:

A. V. Sandulyak, R. Yu. Tkachenko, D. A. Sandulyak, M. N. Polismakova, A. A. Sandulyak, V. A. Ershova
Wichtige Hinweise
Translated from Izmeritel'naya Tekhnika, No. 6, pp. 46–51, June, 2020.
The problems of experimental determination of the magnetic parameters of inhomogeneous granular magnets are considered. It is noted that the lack of direct and (or) indirect experimental data on the magnetic properties of granular ferromagnetic samples of various relative lengths, in particular, negatively affects the validity of requirements and decisions for the creation and maintenance of the functional elements and working bodies of various devices and devices. For cylindrical polyspherical samples, the relative length of which is in the range 1–16, within the framework of the macromodel of an effective medium, the dependences of induction, permeability, susceptibility, and magnetization on the strength of the magnetizing field are obtained. It is shown that in the field strength range of 9–47 kA/m, the values of induction and magnetization of the samples under study increase, which indicates the absence of magnetic saturation of granular magnets (in contrast to solid magnets). In this case, the values of the magnetic permeability and susceptibility remain practically stable. The results obtained will be useful in creating the working bodies of various apparatus and instruments.