2015 | OriginalPaper | Buchkapitel
Analytical and Numerical Approach of Dynamic Behaviour of Flexible Metal Mesh Structures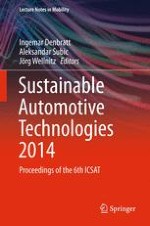 Erstes Kapitel lesen
Autoren: E. Wilhelm, J. Wellnitz
Abstract
The application of Flexible Metal Mesh Structures (FMMS) has the potential to improve human and vehicle safety. Previous experiments confirmed the effectiveness of these structures. Experimental tests are time and cost consuming. Thus the aim of this study is to develop an appropriate simulation model, due to economical and timed aspects. Therefore, within this study an analytical and numerical model at macro-level will be established simulating the dynamic behaviour of the base chainmesh through defined parameters and boundary conditions. The main focus of the present paper is to understand the kinematic behaviour of chainmesh under large-scale impact in the out of plane direction of the material. The field of future applications (human and vehicle safety) defines the governing parameters of the model. Accordingly, high loads and slow impact velocities are simulated, while small distortion and large deformations within the material are tolerated. Furthermore, to ensure reusability of the metal mesh, plastic deformation should not occur, thus have not to be captured within the model. In view of its future applications, the following key topics will be investigated:
DOFs and kinematics of the single (torus) element,

motion of the overall system,

energy absorption of the chainmesh and

estimation of risk of injury in case of human body impact.
Thus, the main aim will be the applicability of the model with its practical relevance lying in the potential to improve Flexible Metal Mesh Structure applications in the field of human and vehicle safety.