01.02.2011 | Original | Ausgabe 1/2011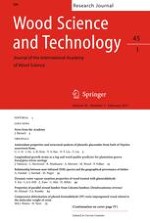 Antioxidant properties and structural analysis of phenolic glucosides from bark of
Populus ussuriensis

Kom.
Zeitschrift:
Autoren:

Chuan-Ling Si, Jie Xu, Jin-Kyu Kim, Young-Soo Bae, Peng-Tao Liu, Zhong Liu
Abstract
The methanol (MeOH) extract of
Populus ussuriensis
Kom. bark was analyzed for antioxidant assessing by 1,1-diphenyl-2-picrylhydrazyl (DPPH) radical scavenging potential. Among fractions using several solvents, the ethyl acetate (EtOAc) soluble fraction, which showed strong antioxidant activity (IC
50
2.02 ± 0.01 μg/ml), was further purified by Thin layer chromatography (TLC) guided Sephadex LH-20 column chromatography. Three known phenolic glucosides, picein (
I
), salicortin (
II
), grandidentatin (
III
), and that of a new, 2-hydroxycyclohexyl-4′-
O
-
p
-coumaroyl-
β
-
d
-glucopyranoside (isograndidentatin A), were isolated and their structures were elucidated on the basis of physiochemical and spectroscopic methods. This was the first report of the chemical composition of
P. ussuriensis
bark. Phenolic glucosides
III
and
IV
exhibited strong antioxidant activities, with IC
50
values 6.73 ± 0.01 and 6.69 ± 0.01 µM, respectively, comparable to the control (α-tocopherol, IC
50
6.80 ± 0.01 µM).
P. ussuriensis
bark EtOAc-soluble fraction and compounds
III
and
IV
could be used as biopreservatives in food applications as well as for cosmetic and medicinal preparations, to alleviate oxidative stress.