16.11.2016 | Ausgabe 2/2018 Open Access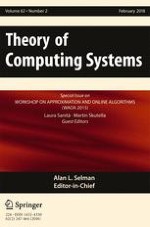 Approximation Algorithms for Connected Graph Factors of Minimum Weight
Zeitschrift:
Autoren:

Kamiel Cornelissen, Ruben Hoeksma, Bodo Manthey, N. S. Narayanaswamy, C. S. Rahul, Marten Waanders
Wichtige Hinweise
Open Access
This article is distributed under the terms of the Creative Commons Attribution 4.0 International License (
http://​creativecommons.​org/​licenses/​by/​4.​0/​
), which permits unrestricted use, distribution, and reproduction in any medium, provided you give appropriate credit to the original author(s) and the source, provide a link to the Creative Commons license, and indicate if changes were made.
Abstract
Finding low-cost spanning subgraphs with given degree and connectivity requirements is a fundamental problem in the area of network design. We consider the problem of finding
d
-regular spanning subgraphs (or
d
-factors) of minimum weight with connectivity requirements. For the case of
k
-edge-connectedness, we present approximation algorithms that achieve constant approximation ratios for all
d
≥2⋅⌈
k
/2⌉. For the case of
k
-vertex-connectedness, we achieve constant approximation ratios for
d
≥2
k
−1. Our algorithms also work for arbitrary degree sequences if the minimum degree is at least 2⋅⌈
k
/2⌉ (for
k
-edge-connectivity) or 2
k
−1 (for
k
-vertex-connectivity). To complement our approximation algorithms, we prove that the problem with simple connectivity cannot be approximated better than the traveling salesman problem. In particular, the problem is
A
P
X
-hard.