2018 | OriginalPaper | Buchkapitel
10. Case Study A: Internal Flow Control Protocol Applied to Unreliable Production Lines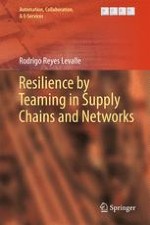 Erstes Kapitel lesen
Autor: Rodrigo Reyes Levalle
Abstract
Production lines can be described as IRNs of a supply network agent, consisting of interconnected processes and storages that transform raw materials into finished products. In almost every case, their objective involves maintaining constant throughput to match demand with minimum WIP. Nonetheless, resources are subject to random failures, creating local downtimes (i.e., at resource level) that can spread through the IRN affecting other non-failed resources and, ultimately, the QoS an agent provides to its successors in the SN. As pointed out by Hudson et al. (
2014
), the problem of unbalanced production lines with unreliable equipment has received significant attention for over half a century. Nevertheless, despite advances in modeling and control of these systems, modern high speed production systems are still challenged by the succession of process failures that lead to line downtimes and, consequently, throughput reduction. This problem is becoming ubiquitous, as production systems become "leaner" and are increasingly required to process a more diverse mix of products with higher speeds and performance.
Case Study A analyzes the relative merits of a teaming-based flow control protocol, IFCP (Reyes Levalle et al.
2013
; Reyes Levalle
2015
), versus traditional production line control methods such as Kanban, CONWIP, DWIP, and Base-stock. Results show that a
teaming
approach to resilient production line control is capable of reducing work-in-process and throughput variability when compared to other traditional control approaches for the same line throughput performance.