11.02.2020 | ORIGINAL ARTICLE | Ausgabe 4/2020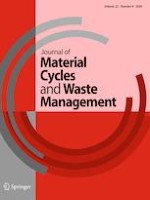 Combustion characteristics of solid refuse fuel derived from mixture of food and plastic wastes
Zeitschrift:
Autoren:

Jong Seong Chae, Seok Wan Kim, Jae Hee Lee, Jin Chul Joo, Tae In Ohm
Wichtige Hinweise
Publisher's Note
Springer Nature remains neutral with regard to jurisdictional claims in published maps and institutional affiliations.
Abstract
In 2017, the amount of municipal waste generated in South Korea was 53,489.5 tons/day and almost 30% of this was food waste. Depending on the vegetable content, the water content of food waste ranges from 73.8 to 83.3 wt.%. In 2017, approximately 97% of food waste was converted into feed, compost, and biogas. However, recently, it has proven difficult to recycle this waste because of increased recycling costs and a lack of consumer awareness about recycled products. However, the drying and incinerating of food waste is emerging as an alternative recycling technology. When dried, food waste with high organic matter contents exhibits a low heating value of approximately 16,750 kJ/kg. In the present study, solid refuse fuel samples made by mixing dried food waste with 3–5 wt.% waste plastic were subjected to proximate and ultimate analysis, heating value measurement. Moreover, for 4 g waste samples, the combustion characteristics and flue gas were analyzed when they were burned in an air atmosphere using the constructed small-scale combustor. The waste samples made by mixing food waste with 3–5 wt.% waste polyethylene synthetic resin exhibited LHVs ranging from 17,710 to 18,500 kJ/kg. Moreover, the Cl concentration ranged from 0.95 to1.27 wt.%.