2018 | OriginalPaper | Buchkapitel
Communication Complexity in Vertex Partition Whiteboard Model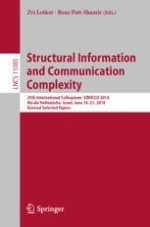 Erstes Kapitel lesen
Autoren: Tomasz Jurdzinski, Krzysztof Lorys, Krzysztof Nowicki
Abstract
We study the multi-party communication model, where players correspond to the nodes of a graph and each player knows its neighbors in the input graph. The players can send messages on a
whiteboard
which are immediately available to each player. Eventually, the referee which knows only messages on the whiteboard is supposed to give a solution to the considered (graph) problem. We distinguish between
oblivious
and
adaptive
variant of the model. The former model is related to simultaneous multi-party communication complexity, while the latter is closely related to so-called broadcast congested clique.
Communication complexity is the maximum over all nodes of the sizes of messages put on the whiteboard by a node. Our goal is to study the impact of adaptivity on communication complexity of graph problems. We show that there exists an infinite hierarchy of problems with respect to the number of rounds for constant size messages. Moreover, motivated by unsuccessful attempts to establish non-adaptive communication complexity of graph connectivity in recent years, we study the connectivity problem in the severely restricted class of two-regular graphs We determine an asymptotically tight bound on communication complexity in the oblivious model and provide
\(\omega (1)\)
lower bound on the number of rounds in the adaptive model for some message size
\(b(n)=\omega (1)\)
.