2018 | OriginalPaper | Buchkapitel
5. Computer Simulation for Space-Oriented Strategic Thinking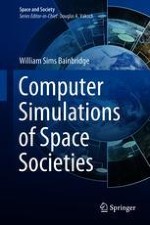 Erstes Kapitel lesen
Autor: William Sims Bainbridge
Abstract
The history of computer simulations connects to strategy games in many ways, notably in their common origin in
Kriegspiel
, the tabletop war games used for two centuries to train military leaders. The most noteworthy historical connection to spaceflight is the century-old chess variant, jetan, invented by science fiction writer Edgar Rice Burroughs and set on the planet Mars. This chapter surveys 7 examples of recent space-related computer strategy games:
Master of Orion
,
StarCraft
,
Sid Meier's Alpha Centauri
,
Sid Meier's Civilization: Beyond Earth
,
Stellaris
, and
Kerbal Space Program
. All of these model the careful building of the necessary technology and economic resources required for space travel, and all but the last also simulate competition across culturally distinctive societies or social movements. While their degree of astronautical realism varies, all require users to think carefully, to learn the contingencies operative in the environment, and thus to develop strategic and tactical intelligence.