2008 | OriginalPaper | Buchkapitel
21. Corpus-Based Speech Synthesis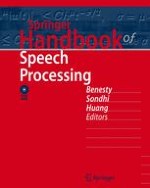 Erstes Kapitel lesen
Autor: Prof. Thierry Dutoit
Verlag: Springer Berlin Heidelberg
Abstract
In this chapter, we present the main trends in corpus-based speech synthesis, assuming a stream of phonemes and prosodic target as input. From the early diphone-based speech synthesizers to the state-of-the art unit-selection-based synthesizers, to the promising statistical parametric techniques, we emphasize the engineering trade-offs that arise when designing such systems.
In particular, we examine the mathematical foundations of available methods for modifying the fundamental frequency and the duration of speech units for concatenative synthesis, as well as for smoothing discontinuities at concatenation points. For each of these problems, we analyze time- and frequency-domain processing, using algorithms such as time-domain pitch-synchronous overlap-add (TD-PSOLA), multiband resynthesis overlap-add (MBROLA), and the harmonic-plus-noise model (HNM).
We then provide a comprehensive description of how and why concatenative speech synthesis has progressively adopted large speech corpora, using the principle of context-oriented clustering as a smooth transition from fixed inventory synthesis to unit selection and statistical parametric synthesis.
Our description of unit selection emphasizes important issues related to the definition of optimal target and concatenation costs, as well as to the design of the speech corpus (including memory cost issues) and the reduction of computational costs.
We conclude the chapter with the mathematical framework underlying HMM-based speech synthesis and an outline of its main perspectives.