01.12.2009 | Mesostructured Materials | Ausgabe 24/2009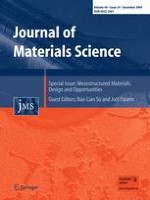 Cu(II) complexes imobilized on functionalized mesoporous silica as catalysts for biomimetic oxidations
Zeitschrift:
Autoren:

M. Mureşeanu, V. Pârvulescu, R. Ene, N. Cioateră, T. D. Pasatoiu, M. Andruh
Abstract
Mesoporous HMS silica was synthesized and functionalized with 3-aminopropyl-triethoxysilane (APTES) by a post-synthesis method. HMS and NH
2
-HMS supports were used for immobilization of two Cu(II) biomimetic complexes ([Cu(acac)(phen)(H
2
O)](ClO
4
), [Cu(acac)(Me
2
bipy)](ClO
4
)) or laccase enzyme. Mesoporous structure of the support; functionalization of silica surface, structure of ligands, and Cu complexes; and their immobilization were evidenced by XRD analysis, N
2
adsorption–desorption, SEM microscopy, TGA-DTA, IR and UV–Vis spectroscopy, and elemental analysis. The results confirm the structural integrity of the mesoporous hosts and successful anchoring of the metal complexes over the supports. For comparison, copper-substituted mesoporous silica (Cu-HMS) by using dodecylamine as structure-directing agent was also synthesized. All the synthesized materials were tested for their catalytic activity on the oxidation of 4-aminoantipyridine, 2,2′-azinobis (3-ethyl-benzothiazoline)-sulfonic acid (ABTS) with air, as well as in liquid phase oxidation of anisole and phenol with hydrogen peroxide. In order to verify the complex biomimetic activity, the
Trametes versicolor
laccase was immobilized by adsorption in the same supports.