02.01.2016 | Ausgabe 4/2016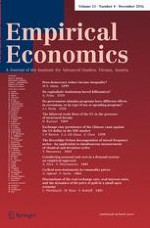 Cyclical non-stationarity in commodity prices
Zeitschrift:
Autoren:

Atle Oglend, Frank Asche
Wichtige Hinweise
The authors would like to thank the Norwegian Research Council for financial support.
Abstract
This paper applies the Hylleberg et al. (J Econom 44(1):215–238,
1990
) parametric seasonal unit root test to test for cyclical non-stationarity in commodity prices. The testing procedure is simple and involves evaluating various linear restrictions on lagged price levels in an error correction model of prices, equivalent to the Augmented Dickey–Fuller test. Unit root behaviour at low frequencies implies cyclical non-stationarity. In our empirical application, we fail to reject unit roots at frequencies associated with 3- to 5-year-long price cycles for 7 of 16 major commodities. Our results suggest that longer cycles in many commodity prices are highly stochastic, and care should be taken when interpreting the regularity and out-of-sample predictability of such cycles using historical price movements.