26.04.2016 | Ausgabe 6/2016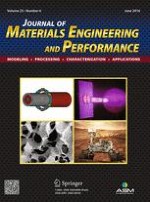 Deformation Behavior Immediately After Indentation Load Change in Ultrafine-Grained Al-Mg Solid Solution Alloys
Zeitschrift:
Autoren:

Hidenari Takagi, Masami Fujiwara
Abstract
Instrumented indentation tests were performed to study how grain boundaries and solute atoms affect creep and instantaneous plastic deformation in ultrafine-grained (UFG) Al-Mg solid solution alloys with average grain size
d
= 0.3 − 1.0 μm at
T
= 373 K. In the results for Al-1.0 mol% Mg, the degree of instantaneous plastic displacement generated with a rapid increase in the load was smaller when the grain diameter was smaller. On the other hand, creep occurs more readily in materials with a smaller grain diameter. When the load was rapidly decreased during creep, the indenter displacement gradually decreased over time. The degree of reverse creep that occurs is greater when the grain diameter is smaller. In light of these test results and reports in the related literature, reverse creep is thought to occur because of inverted movement of piled-up dislocations near the grain boundaries. For the case of Al-
x
Mg (
x
= 0.5, 1.0, 2.0 mol%), the results show that as the solute concentration increases, the occurrence of instantaneous plastic deformation, creep, and reverse creep becomes less likely. Overall, the results indicate that the plastic deformation behavior obtained by the testing conditions of present study for UFG Al-Mg alloys could be explained based on understanding of the behavior of course-grained materials.