01.09.2015 | Ausgabe 3/2015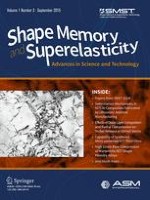 Deformation Mechanisms in NiTi-Al Composites Fabricated by Ultrasonic Additive Manufacturing
Zeitschrift:
Autoren:

Xiang Chen, Adam Hehr, Marcelo J. Dapino, Peter M. Anderson
Wichtige Hinweise
This article is an invited paper selected from presentations at the International Conference on Shape Memory and Superelastic Technologies 2014, held May 12-16, 2014, in Pacific Grove, California, and has been expanded from the original presentation.
Abstract
Thermally active NiTi shape memory alloy (SMA) fibers can be used to tune or tailor the effective coefficient of thermal expansion (CTE) of a metallic matrix composite. In this paper, a novel NiTi-Al composite is fabricated using ultrasonic additive manufacturing (UAM). A combined experimental-simulation approach is used to develop and validate a microstructurally based finite element model of the composite. The simulations are able to closely reproduce the macroscopic strain versus temperature cyclic response, including initial transient effects in the first cycle. They also show that the composite CTE is minimized if the austenite texture in the SMA wires is 〈001〉B2, that a fiber aspect ratio >10 maximizes fiber efficiency, and that the UAM process may reduce hysteresis in embedded SMA wires.