2013 | OriginalPaper | Buchkapitel
7. Development of Displays: Getting to See 3D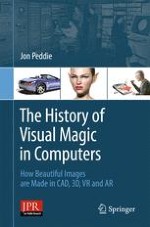 Erstes Kapitel lesen
Autor: Jon Peddie
Verlag: Springer London
Abstract
Display technology has had three basic phases in its history starting with monochrome vector CRT, going through monochrome raster CRT to color raster CRT, and then using color raster LCD and OLED. CRTs are either vector, or raster. A vector, or electrostatic CRT, (sometimes referred to as "random scan") was first used as a used in computer systems from the 1940s to as late as the late 1980s and were replaced by electromagnetic deflection raster scan displays (sometimes referred to as "all points addressable" APA display). Vector displays were round, and usually large, 20–24-in. in diameter. Raster displays, based on TV tubes, were rectangular, ranging in size from as small as 9-in., up to 27-in., in the 2000s 30-in. raster-scan LCD computer monitors became available. Generally, if you see a picture of an old computer you can tell what kind of display it has by its shape. A special class of vector display was developed in 1968 called a storage tube. The Direct View Storage Tube emerged as a graphics screen that maintained an image without requiring refreshing (However, the entire screen had to be redrawn for any change). Vector graphics terminals, which evolved from oscilloscopes, required constant refreshing of the image—one of the reasons the storage tube display terminals were so popular.
The first production color picture tube was a 15-in. round screen CRT, made in 1954 by RCA. Raster scan displays for graphics were initially limited to X–Y resolutions such as 256 × 256 to 512 × 512, or 480 × 640 due to the cost of the memory in the frame buffer, and they were slow due to the difficulty of the processing required for scan conversion.
Display standards for the PC were developed by IBM and can still be found in use today (in the form of the venerable VGA standard). Today its alphabet-soup with standards such as DVI, HDMI, DP, and others.
Projectors have gotten small and low cost making very large displays using multiple projectors possible. New technologies in the form of nano-crystals called quantum dots will probably be the final surface display technology until holographic displays become practical.