2015 | OriginalPaper | Buchkapitel
6. Discrete Control of LTI SISO Plants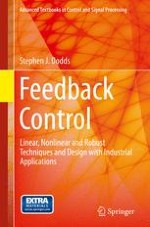 Erstes Kapitel lesen
Autor: Stephen J. Dodds
Verlag: Springer London
Abstract
The general structure, timing, algorithms and flow charts of discrete controllers are first discussed. Then the correlation of the behaviour of discrete dynamical systems with the
z
-plane pole locations is studied, including stability analysis. The effects of transfer function zeros are also considered.
A simple procedure is presented for converting continuous controller designs for digital implementation provided the sampling period is sufficiently small. A criterion of applicability of continuous linear time-invariant system theory is developed that determines whether or not this procedure is valid.
The remainder of the chapter is devoted to a design method applicable, in theory, with unlimited sampling periods and which caters for plants of arbitrary order. This entails pole placement in the
z
-plane in which a specified settling time is nearly realised if it is considerably larger than the sampling period. As the demanded settling time approaches zero for a fixed sampling time, a dead-beat response is approached, which has the shortest possible settling time and is therefore the best compromise.
Discrete polynomial control is presented, following the continuous version of Chap.
5
. This has the same structure as the RST controller but a different design procedure. It is shown how this methodology enables computational delay allowance.
Finally, discrete polynomial control of plants containing pure time delays, aided by a Smith predictor, is addressed.