2018 | OriginalPaper | Buchkapitel
Drivers, Obstacles and Benefits of the Adoption of SA8000: A Survey in Italian Companies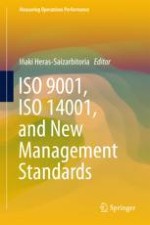 Erstes Kapitel lesen
Autoren: Iñaki Heras-Saizarbitoria, Giovanna Talamazzi, Francesco Testa, Olivier Boiral
Abstract
Several CSR certifiable meta-standards have been launched in recent decades but one of the most popular and widespread has been the SA8000 standard, as the ISO 26000 launched by ISO is not suitable for certification purposes (Hahn in Bus Strategy Environ 22:442–455,
2013
). Indeed, in the scholarly literature, SA8000 has been considered to be one of the best CSR initiatives, as it is intended to institutionalize business ethics through standardization (Gilbert and Rasche in Bus Ethics Q 187–216,
2007
). Nevertheless, the adoption of this CSR standard has not been widely studied compared to the cases of ISO 9001, ISO 14001 or EMAS. In order to fill this gap in the literature, the aim of the present chapter is to shed light on the adoption of the SA8000 meta-standards by Italian companies. The empirical study focused on the Italian case because it seems paradoxical; Italy is the country in the world with the highest intensity of SA8000 certification in relative terms, even though this CSR standard was targeted at developing countries with labour intensive industries. The work analyzes the motivations, obstacles and benefits of the adoption of the SA8000 standard using primary data obtained from a survey of 130 Italian organizations. The article contributes to the empirical literature on the adoption of CSR standards. Implications for managers, policy makers and other stakeholders are discussed, together with avenues for further research.