2018 | OriginalPaper | Buchkapitel
Durability Assessment: A Virtual Proving Ground Approach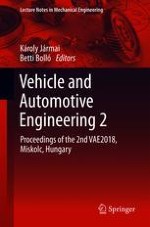 Erstes Kapitel lesen
Autoren: Gergely Erdős, László Takács
Abstract
The aim of the presented calculation is the assessment of the durability performance of a vehicle under realistic loading conditions. Widely used static calculations only provide a rough overview of the behavior as loads and boundary conditions are largely idealized and abstract, while dynamic effects are completely excluded. Significant improvement can be achieved by such transient simulations where the loads are more realistic and the body dynamics are included.
However, the real life loading of a vehicle is largely unknown and thus, it is hard to analyze. In the physical world, accelerated proving ground tests provide a good approximation of service life according to several decades of practice. They have a serious limitation: they can be utilized only after a prototype is constructed. Meanwhile, they give a sound basis for simulations: virtual proving grounds can be constructed, where the vehicle concepts can be analyzed effectively in the earlier construction phases. The calculated results are directly related to those of the physical measurements, thus, they may be easily validated.
Our company has successfully utilized this method for different application areas. In the present paper the results of case studies are showcased, where such multibody simulation is utilized to assess the durability performance of on-road and off-road vehicles based on the virtual proving ground approach. Besides the case studies, further possible development directions are identified and discussed. Also, the method is compared to durability assessments based on static load cases.