01.07.2013 | Ausgabe 3/2013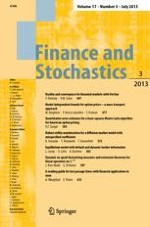 Dynamic no-good-deal pricing measures and extension theorems for linear operators on
L
∞
Zeitschrift:
Autoren:

Jocelyne Bion-Nadal, Giulia Di Nunno
Abstract
In an
L
∞
-framework, we present
majorant-preserving
and
sandwich-preserving
extension theorems for linear operators. These results are then applied to price systems derived by a reasonable restriction of the class of applicable equivalent martingale measures. Our results prove the existence of a no-good-deal pricing measure for price systems consistent with bounds on the Sharpe ratio. We treat both discrete- and continuous-time market models. Within this study we present definitions of no-good-deal pricing measures that are equivalent to the existing ones and extend them to discrete-time models. We introduce the corresponding version of dynamic no-good-deal pricing measures in the continuous-time setting.