08.09.2018 | Ausgabe 6/2019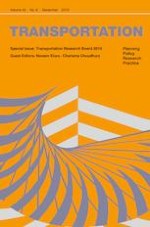 E-bikes among older adults: benefits, disadvantages, usage and crash characteristics
Zeitschrift:
Autoren:

Jelle Van Cauwenberg, Ilse De Bourdeaudhuij, Peter Clarys, Bas de Geus, Benedicte Deforche
Wichtige Hinweise
Electronic supplementary material
Abstract
The promotion of sustainable and healthy mobility among older adults (≥ 65 years) is an important challenge. E-bikes may be part of the solution, but research about e-bike use among older adults is scarce. The current study aims to examine e-bikes' purchase reasons, benefits and disadvantages, purposes and amount of use, substitution effects and crash characteristics among older e-bike users. Additionally, it examines differences between men and women. In Flanders (Belgium), 357 older e-bike users completed an online- or interview-version of the same questionnaire. Among men and women, the most prevalent reason for e-bike purchase was to bike with less effort (24.1%). The most important benefit of e-bike use was to be able to bike longer distances (35.0%). E-bikes' heavy weight was the most frequently reported disadvantage (33.3%). Men more frequently reported battery issues, but also that they do not experience any disadvantage. Women more frequently reported fear of falling/injuries. Participants used their e-bikes for various purposes. Men more frequently reported to cycle for recreation alone while women used the e-bike more for social reasons. E-bikes predominantly replaced trips by conventional bike (72.0%) and car (50.7%). About one quarter (27.5%) had experienced an e-bike crash, most frequently caused by an uneven or slippery surface (26.5%). To promote active ageing, policy initiatives could include strategies aimed at stimulating e-bike use. These strategies should focus on emphasizing the identified benefits, reducing the disadvantages and increasing e-bike safety. Research in countries with less favorable cycling cultures is necessary to confirm current findings.