01.03.2015 | Ausgabe 1/2015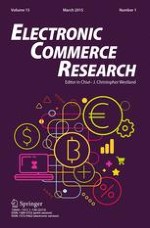 e-souvenir appification: QoS web based media delivery for museum apps
Zeitschrift:
Autoren:

Evangelos Sakkopoulos, Mersini Paschou, Yannis Panagis, Dimitris Kanellopoulos, Georgios Eftaxias, Athanasios Tsakalidis
Abstract
The advent and recent proliferation of applications, created for smartphones and tablets, has altered the way users interact with information that is available online. Appification has been recently introduced to describe the rapidly widening shift from Web browsing to the usage of smartphone Apps for Internet-based information access and e-services consumption. In this paper, we present a solution that introduces
e-souvenir (digital souvenir)
, extending the appification of e-shopping and shopping (non electronic) souvenirs while visiting cultural sights (e.g. museum, exhibitions etc). Instead of just buying a souvenir from a museum, the proposed smartphone App increases user involvement in order to personalize the App with his/her choices while sight-seeing and thus, such choices form an electronic souvenir: the
e-souvenir
. Additionally, our approach introduces intelligent Quality of Service (QoS) enabled features to the cultural smartphone App to improve user's experience, while using it at cultural sights and points of interest. We facilitate efficient QoS-based media delivery to the e-souvenir solution in order to make it efficient to operate under heavy network traffic load and best-effort Internet-based connections. This is especially important to handle bottlenecks that occur, when tourists gather the most popular exhibits within the exhibition rooms, and when they visit the museum in groups (e.g. schools, cruises etc). The proposed solution is a tool for better understanding and appreciation of the cultural exhibits while being on site, and it serves as an electronic souvenir in the post-visit experience. We show how QoS assurance techniques enable efficient media delivery through smartphones to assist making the old fashioned shopping souvenirs to go online and become virtual. The proposed QoS enabled smartphone solution serves as a high quality digital souvenir after museums' visits. This solution has already received warm feedback and encouraging comments by tourist and museum professionals.