2019 | OriginalPaper | Buchkapitel
13. Economic Evaluation of Risk Premium of Social Overhead Capital in Consideration of the Decision-Making Process Under Risk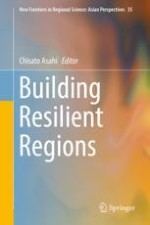 Erstes Kapitel lesen
Autoren: Chisato Asahi, Kiyoko Hagihara
Verlag: Springer Singapore
Abstract
Japan has experienced a number of large-scale natural disasters, and social demand for effective infrastructure to manage risks related to these disasters is increasing under the constraint of public financial drought. In practice, benefits under risk only account for the expected value of the physical and human damages, and therefore, the integration of the idea of 'risk premium' and 'vulnerability' into cost-benefit analysis needs to be addressed.
This chapter utilizes data from a questionnaire concerning municipal water cut-off risk as a case study to investigate the decision-making process for the valuation of risk premium. We focus on two decision-making frameworks: decision-making under risk and the prospect theory. We examine whether risk prevention behaviour or risk-cost trade-off choices concerning water cut-off risk are affected by the risk aversion index, risk perception, and the reference point effect or not by using a logit regression and an interval regression analysis.
The main conclusion is as follows: risk preference in terms of monetary scale does not affect the choice of a household in the case of water cut-off risk, whereas risk perception does. The reference point effect in the combination of loss aversion and probability evaluation is observed in the household's choice experiment.