12.11.2016 | Ausgabe 5/2016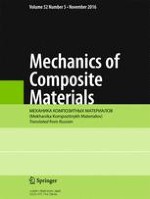 Effect of surface and interface energies on the nonlinear bending behaviour of nanoscale laminated thin plates
Zeitschrift:
Autoren:

M. Xu, B. L. Wang, A. Yu
Wichtige Hinweise
Russian translation published in Mekhanika Kompozitnykh Materialov, Vol. 52, No. 5, pp. 955-972, September-October, 2016.
Using an improved multilayered plate model, the influence of surface and interface energies on the bending behaviour of laminated nanoplates is incorporated into the Kirchhoff plate theory. Governing equations taking into account the geometrical nonlinearity are obtained to study the influences of surface/interface energies. Based on the Navier and Ritz methods, closed-form solutions for both simply supported and clamped nanoplates are obtained. Numerical results for single- and multilayered nanoplates indicate that the interface effect can noticeably change the elastic behaviour of laminated plates on the nanometer scale. In addition, the flakiness ratio, external load, and number of layers also affect the surface/interface effects at large deformations. This study will be useful for the design and examination of nanoplates and nanoscale devices, especially multilayered plates at large deformations.