15.03.2019 | Ausgabe 6/2019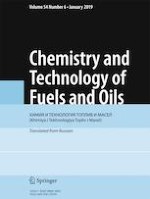 Effect of the Phase State of the Solvent on Solvent Deactivation of Tar by
n

-Pentane
Zeitschrift:
Autoren:

R. N. Magomedov, A. V. Pripakhailo, T. A. Maryutina
Wichtige Hinweise
Translated from
Khimiya i Tekhnologiya Topliv i Masel
, No. 6, pp. 32 – 39, November –December, 2018.
Fuel development for solvent deasphalting (SDA), by means of which it is possible to obtain high yields of deasphalted oil (DAO) with acceptable quality for subsequent refining in catalytic cracking processes and hydrocracking in particular, is nowadays becoming increasingly important. In this paper, an experimental study of the SDA of tar (vacuum residue) with
n
-pentane at various extraction temperatures and pressures was undertaken, and this made it possible to determine the effect of the phase state of the solvent on the yield, composition, and properties of the separation products,. It was shown that transfer of pentane from the liquid phase state to the region of a subcritical and then supercritical fluid (SCF) increases the solubility of the tar components and the yield of the DAO for fixed values of the solvent density. Despite some decrease in the quality of the DAO in the case of supercritical extraction at temperatures close to the critical temperature of the solvent (220°C), the phase state of the pentane has little effect on the metal content of the products, the carbon residue content of the DAO, and the softening point of the asphalt for the given yields.