2011 | OriginalPaper | Buchkapitel
17. Effect of Urea-Treated Sorghum Stover Supplemented with Local Protein Sources on the Performance of Sheep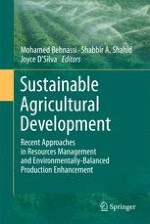 Erstes Kapitel lesen
Autoren: Fithawi Mehari Gebremariam, Goitom Asghedom
Verlag: Springer Netherlands
Abstract
On-farm feeding trials were carried out to examine the effect of supplementing urea-treated sorghum stover (UTSS) with sesame cake (SC) or fishmeal (FM) on the body weight of sheep. Twenty-one male sheep were divided into three groups of seven sheep in each treatment. All the sheep used in this experiment were from breed (Gerej), with the same age and initial body weight and from the same area.
The feeding trials were conducted in Gash Barka situated in western lowlands of Eritrea. Initially all the sheep were fed on UTSS for an adaptation period of 15 days. The control diet consisted of UTSS fed ad libitum, the second and third treatments were composed of UTSS fed ad libitum, supplemented daily with 80 g/head of SC and 60 g/head of FM, respectively. The experiment was conducted for 90 days and both feed intakes and body weights were recorded regularly. The results showed that the dry matter intake (DMI) was significantly different (
p
 < 0.05) between the control and SC-supplemented groups, but not between the other treatments. It was the highest for the SC-supplemented group at 847 g/head/day followed by the FM-supplemented group and the control at 826 and 821 g/head/day, respectively. Sheep supplemented with SC had the highest significant (
p
 < 0.05) body weight gain (BWG) (134 g/head/day) followed by the group supplemented with FM (115 g/head/day). The BWG for the control was 66 g/head/day. Feed conversion was best on SC (6.92) followed by FM (7.70) supplementation. The lowest cost of feed per kg of BWG (16.91 Nfa) was attained by supplementing with SC. It can be concluded that feeding UTSS alone or supplementing with small amounts of SC or FM can increase the live weight of sheep at a reasonable cost.