01.01.2015 | Ausgabe 1/2015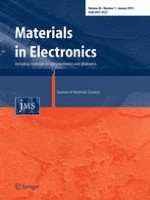 Effects of barium substitution on the dielectric properties of Sr(Fe0.5Nb0.5)O3 ceramics
Autoren:

Zhuo Wang, Hai Juan Li, Liang Liang Zhang, Yong Fei Wen, Yong Ping Pu
Abstract
The Ba-substituted Sr
1−

x
Ba
x
(Fe
0.5
Nb
0.5
)O
3
(SBFN,
x
= 0, 0.2, 0.5, 0.8) ceramics were prepared by a conventional solid-state sintering, and their microstructure and dielectric properties were investigated. The single-phase SBFN were obtained up to
x
= 0.8 Ba substitution and the lattice parameter increased with Ba substitution concentration. The dielectric constant increased with Ba substitution, and the highest value of ~180,000 was observed in the
x
= 0.8 Ba-substituted specimen at 1 kHz. Besides, the dielectric constant increased rapidly a giant value more than 10
6
over a broad temperature range for
x
= 0.8 Ba-substituted specimen. The obtained electric and dielectric properties in Ba-substituted SBFN were discussed in terms of the internal barrier layer capacitor model and electrode response.