01.08.2014 | Ausgabe 4/2014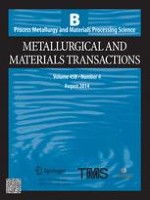 Effects of Li2O and Na2O on the Crystallization Behavior of Lime-Alumina-Based Mold Flux for Casting High-Al Steels
Zeitschrift:
Autoren:

Boxun Lu, Kun Chen, Wanlin Wang, Binbin Jiang
Wichtige Hinweise
Manuscript submitted November 17, 2013.
Abstract
With the development of advanced high strength steel (AHSS), a large amount of aluminum was added into steels. The reaction between aluminum in the molten steel and silica based mold flux in the continuous-casting process would tend to cause a series of problems and influence the quality of slabs. To solve the above problems caused by the slag–steel reaction, nonreactive lime-alumina-based mold flux system has been proposed. In this article, the effect of Li
2
O and Na
2
O on the crystallization behavior of the lime-alumina-silica-based mold flux has been studied by using the single hot thermocouple technology (SHTT) and double hot thermocouple technology (DHTT). The results indicated that Li
2
O and Na
2
O in the above mold flux system play different roles as they behaved in traditional lime-silica based mold flux, which would tend to inhibit general mold flux crystallization by lowering the initial crystallization temperature and increasing incubation time, especially in the high-temperature region. However, when their content exceeds a critical value, the crystallization process of mold fluxes in low temperature zone would be greatly accelerated by the new phase formation of LiAlO
2
and Na
x
Al
y
Si
z
O
4
crystals, respectively. The crystalline phases precipitated in all samples during the experiments are discussed in the article.