07.06.2016 | Original | Ausgabe 3/2017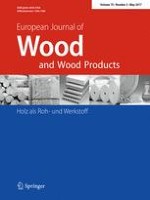 Effects of log position in the stem and commercial thinning on jack pine chip dimensions produced by a chipper-canter
Zeitschrift:
Autoren:

Claudia B. Cáceres, Roger E. Hernández, Ahmed Koubaa
Abstract
Fifteen stems of jack pine (
Pinus banksiana
Lamb.) coming from three commercial thinned (CT) plots (control, moderate, and intensive thinning) in the Abitibi-Témiscamingue region, Canada, were cross-cut into three 2.4 m length sections: bottom, middle, and top logs. Logs were processed with a chipper-canter at three cutting widths (CW 12.7, 19.1, and 25.4 mm), producing chips and a three faced cant. Chips were assessed by thickness, width, and length. Knot characteristics [total knot number (TKN) and area (TKA)] were assessed in the three cant faces. Growth ring attributes [earlywood density, latewood density (LWD), ring density (RD), earlywood proportion (EWP), ring width, and rings per mm], mechanical properties (shear, splitting, modulus of elasticity and modulus of rupture in bending), and basic density were evaluated on samples obtained within each CW area. The weighted mean chip thickness (WCT) was significantly affected by the log position in the stem (LPS) and CW. WCT increased as CW increased. Jack pine produce thicker chips than black spruce, when processed under the same cutting parameters. Thickness of chips coming from bottom and middle logs was similar due to a greater taper of the bottom log, which slightly increased this dimension. Thickest chips were produced in the top log due to a higher TKA and TKN towards the top of the stem. Multiple linear regressions showed that TKA, CW, and RD were significant predictors of WCT. Chip size distributions were significantly affected by the CT, LPS, and CW. Thinned stands logs appeared to produce smaller chips than natural stand logs. Moreover, chip thickness distribution was affected primarily by TKA and EWP, while the width and length distribution was mainly affected by EWP, LWD, and TKN. Chip size in jack pine is to some degree determined by knot attributes, growth ring characteristics, and wood density of the raw material. These results suggest the potential advantage of sorting logs prior to chipping, either by species, LPS and/or provenance (thinned or natural stands).