2010 | OriginalPaper | Buchkapitel
15. Efficiency of Removal of Compounds with Estrogenic Activity During Wastewater Treatment: Effects of Various Removal Techniques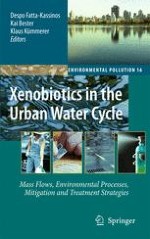 Erstes Kapitel lesen
Autoren: M. H. Lamoree, J. G. M. Derksen, S. C. van der Linden, C. A. Uijterlinde, P de Voogt
Verlag: Springer Netherlands
Abstract
The effluents from wastewater treatment plants are known to contribute significantly to the total emission of estrogenic compounds, both from natural and anthropogenic sources, into the aquatic environment. As a logical consequence, occurrence of these compounds affects the quality of our surface waters in general, while they may be able to interfere with aquatic wildlife through endocrine disruption.
In a comprehensive monitoring programme, the removal of natural estrogenic hormones, bisphenol A, nonylphenol and nonylphenol ethoxylates was investigated for a number of Dutch wastewater treatment plants. For quantification of these contaminants at very low levels (low ng/L for the hormones and bisphenol A, low μg/L for nonylphenol and its ethoxylates), both GC-MS and LC-MS techniques were applied. In addition, overall estrogenic activity in samples taken from various steps in the treatment cycle was determined by application of the ER-CALUX assay.
Apart from a standard approach for wastewater treatment, several additional treatment techniques, that is sand filtration, active coal filtration, membrane bioreactors (in series and stand-alone) were investigated as well.
None of the treatment techniques was able to remove all of the estrogenic activity. In the sewage treatment plant effluents, only estrone, bisphenol A, nonylphenol and nonylphenol ethoxylates were regularly detected, while 17β-estradiol was measured incidentally. In general, implementation of most additional treatment techniques further reduced the estrogenic activity to levels below 1 ng EEQ/L.