01.08.2014 | Ausgabe 6/2014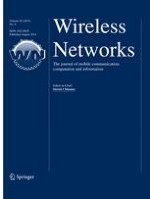 Energy-efficiency resource allocation of very large multi-user MIMO systems
Zeitschrift:
Autoren:

Ying Hu, Baofeng Ji, Yongming Huang, Fei Yu, Luxi Yang
Abstract
With increasing demand in multimedia applications and high data rate services, energy consumption of wireless devices has become a problem. At the user equipment side, high-level energy consumption brings much inconvenience, especially for mobile terminals that cannot connect an external charger, due to an exponentially increasing gap between the available and required battery capacity. Motivated by this, in this paper we consider uplink energy-efficient resource allocation in very large multi-user MIMO systems. Specifically, both the number of antenna arrays at BS and the transmit data rate at the user are adjusted to maximize the energy efficiency, in which the power consumption accounts for both transmit power and circuit power. We proposed two algorithms. Algorithm1, we demonstrate the existence of a unique globally optimal data rate and the number of antenna arrays by exploiting the properties of objective function, then we develop an iterative algorithm to obtain this optimal solution. Algorithm2, we transform the considered nonconvex optimization problem into a convex optimization problem by exploiting the properties of fractional programming, then we develop an efficient iterative resource allocation algorithm to obtain this optimal solution. Our simulation results did not only show that the the proposed two algorithms converge to the solution within a small number of iterations, but demonstrated also the performances of the proposed two algorithms are close to the optimum. Meanwhile, it also shows that with a given number iterations the performance of proposed algorithm1 is superior to proposed algorithm2 under small
p
C
. On the contrary, the performance of proposed algorithm2 is superior to proposed algorithm1 under large
p
C
.