2015 | OriginalPaper | Buchkapitel
Federalism, Proportionality, and Popular Will in US Presidential Elections: Did Colorado Have the Right Idea?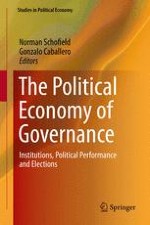 Erstes Kapitel lesen
Autoren: Jose M. Pavía, Fernando Toboso
Abstract
As is well known, the United States is a federal country composed of 50 states plus the District of Columbia, where the individual states and the country as a whole are each sovereign jurisdictions. This is reflected everywhere in its political-administrative structure, including the election of the US President, who is elected by the Electoral College and not directly by the people; an issue that provokes a confrontation between abolishers of the Electoral College and supporters of the current system each time a candidate not winning the most popular votes is elected President (last time in 2000 elections). Between both extremes, there are intermediate solutions that, while continuing to respect the spirit of a federal nation like the USA, enable proportionality to be incorporated into the process. This was, for example, the idea behind Amendment 36 to the Colorado Constitution (LCCGA, Analysis of the 2004 ballot proposals. Research Publication No. 527-1. Legislative Council of the Colorado General Assembly, Colorado, 2014). After studying the merits and drawbacks of the current system, this paper investigates what would have happened if Colorado proposal had been used nationwide in Presidential elections from 1828 to 2012. The chapter concludes that the Colorado idea might have made electoral colleges' results closer to popular will, would have diminished the risk of electing a non-popular winning President and would have served to require a more balanced regional support to be elected. As counterpart, it would have encouraged the emerging of third minor candidates.