2011 | OriginalPaper | Buchkapitel
2. Fundamentals of ISCO Using Hydrogen Peroxide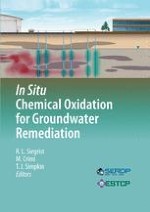 Erstes Kapitel lesen
Autoren: Benjamin G. Petri, Richard J. Watts, Amy L. Teel, Scott G. Huling, Richard A. Brown
Verlag: Springer New York
Scope
Chemistry and use of hydrogen peroxide for
in situ
chemical oxidation (ISCO) of subsurface contaminants, including free radical and other reaction mechanisms, catalysts, and reactive transport.
Key Concepts
Hydrogen peroxide reaction chemistry is complex, but potentially capable of degrading a wide range of organic contaminants depending on conditions.

Ferrous [Fe(II)] and ferric [Fe(III)] iron, iron and manganese soil minerals, and other metals in solution may catalyze hydrogen peroxide to form free radicals. These catalysts may be naturally present in the matrix, or added during ISCO to augment the reaction.

pH has a strong effect on hydrogen peroxide chemistry and effectiveness. pH impacts catalyst solubility and reactivity towards hydrogen peroxide, as well as the radicals formed and the degradation of target contaminants. Some hydrogen peroxide applications include the injection of amendments (acids or alkalis) to modify pH to an optimal range.

Radicals known to play significant roles in hydrogen peroxide chemistry include the hydroxyl radical (OH⋅), superoxide radical (O2⋅−), and perhydroxyl radical (HO2⋅).

Different radicals dominate the reaction under different chemistry conditions, and are controlled by parameters such as concentration of the oxidant, catalyst, organic or inorganic solutes, and pH. This can affect performance as some contaminants may only degrade under specific chemistry conditions.

Carbonate, bicarbonate, chloride, other inorganic ions, and hydrogen peroxide itself are reactive with radicals and may affect reaction efficiency and effectiveness.

The lifetime of hydrogen peroxide in the subsurface is short, generally hours to days.

The reactive transport of hydrogen peroxide in the subsurface is limited, primarily because of its fast reaction rate.