2012 | OriginalPaper | Buchkapitel
Galvanotaxis of the Plasmodium of Physarum Polycephalum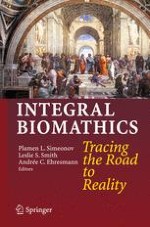 Erstes Kapitel lesen
Autor: Shuichi Kato
Verlag: Springer Berlin Heidelberg
The traditional research method of the natural sciences chooses an element paying attention to the various elements in the natural world and analyzing their characteristics and components. To analyze the complicated structure of nature, one normally applies a highly precise device and the sophisticated expertise. This method will exclude other elements of the natural world, and will ignore mutual relations between elements that the network has. Such methods and results contribute to human profit immediately. On the other hand, by ignoring the function within the whole of the natural world, naturally we will face the environmental disruption threatening our survival. Thus modern technology resembles the person who is preoccupied with a specific thing in a forest, and loses his way. Because nature has a simpler aspect as a whole, it may not need the high quality technology for the understanding of nature as the whole. We have changed natural environments towards our profit for a long time. But, a protozoan (the lower animals) such as the myxomycetes let themselves adapt themselves to their environment by changing their lifestyle. Such a protozoan gives us valuable suggestions for our survival, and the new findings of a natural system provide a good opportunity to re-examine the scientific method. To understand nature as a whole, regardless of creatures and inanimate objects, it is necessary to understand how the systems of nature connect each other. Therefore, to obtain new findings on the mutual relations between environment and living creatures, in general, the ecosystem (or the behaviors of creatures) are investigated. The myxomycetes which have the time period of amoeba and a short life cycle, are considered best for observation of behaviors in environment.
In the plasmodium of
Physarum polycephalum
, we confirmed that galvanotaxis causes dilation of the tubular vein, the increment of resting potential, phase reversal of movement, and rapid flow of protoplasm streaming. In this paper, we show that the electric field strength can be used as an effective stimulus to motion control of a plasmodium on an agar-agar surface. (1) Galvanotaxic reinforcement: Our results show that the velocity of crawling increases in proportion to the DC electrical stimulus, up to a specific velocity. (2) Remaining galvanotaxis: A synthetic plasmodium composed of a experienced plasmodium which has been stimulated by the electric field strength and an inexperienced plasmodium which has not been stimulated, shows more rapid crawling than plasmodium which has not been stimulated. (3) Galvanotaxic application: In the experiment using a T-shaped path consisting of one path of feeble electric field strength and one with no electrical field, an experienced plasmodium, chooses almost always a path without the electrical field. On the other hand, the path chosen by an inexperienced plasmodium is always random. Our method has significant possibilities to find new findings for origin of memory and learning by a simple animal model, the plasmodium of
Physarum polycephalum
.